Level Up Way – Premium Hydrogen Water Bottle Generator – SPE PEM DuPont US
False claims + small battery + small water container
{ ORIGINAL DESCRIPTION ON AMAZON }

False claims (if present) are highlighted in red by Hydrogen Water Labs
A MUST in YOUR HOME: If you're all about the HEALTHY LIFESTYLE, you surely understand the importance of proper HYDRATION for your body. This hydrogen water bottle generator infuses additional hydrogen molecules into your drinking water is the optimal solution for you and your family.

NEW TECH – WATER IONIZER:

FIRST in the WORLD

, 2 Chamber

7 Layer System

SPE–Platinum Catalyzed DuPont 117 Membrane. Food-grade Tritan plastic, 250ml. It can add up to 4000 ppb hydrogen concentration after only two electrolysis and -750 Oxidation-Reduction Potential /ORP/.

HEALTHY LIFESTYLE: The BEST ANTIOXIDANT. Improves human HEALTH by reducing FREE RADICALS. It can enhance MEMORY, lessen FATIGUE, help with allergies and reduce AGING EFFECTS.

LEAK PROOF and SAFE during making hydrogen: NO CHLORINE & OZONE with oxygen gas exhaust vent on bottom. Colorful indicator during making hydrogen, more enjoyable. Alarm reminder for ending making.

RISK FREE – USA SELLER – 1 YEAR WARRANTY – take your HYDROGEN ENRICHING WATER SYSTEM; Every Bottle comes with a 30 days Money Back Guarantee, One Year Hassle Free Warranty, and a friendly customer service – We Have ALL SPARE PARTS for your peace of mind.
Product Description
What Is Hydrogen Water?
WHAT IS HYDROGEN WATER? Hydrogen water is simply pure water with extra hydrogen molecules added to it. Hydrogen is a colorless, odorless, non-toxic gas that binds to other elements like oxygen, nitrogen, and carbon to form various compounds. Water molecules consist of two hydrogen atoms and one oxygen atom, but some assert that infusing water with additional hydrogen produces benefits that plain water cannot deliver. It's thought that the body can't effectively absorb the hydrogen in plain water, as it's bound to oxygen, but when extra hydrogen is added, these hydrogen molecules are "free" and more accessible to your body. Molecular Hydrogen Generator Produces BEST ANTIOXIDANT for YOU. Hydrogen water is marketed to decrease inflammation, boost athletic performance, and even slow your aging process.
Water for Your Health
Molecular hydrogen is a NOVEL ANTIOXIDANT to efficiently reduce oxidative stress and improvement of mitochondrial diseases. Hydrogen water prevents bad cholesterol which plague arteries, also slows down the AGING PROCESS. METABOLISM REVOLUTION; hydrogen water ionizer improves metabolism and nutrient absorption.
The Top 8 Health Benefits of Hydrogen Water
The Best Antioxidant

Improving Metabolism

Anti-inflammation

Prevent Degenerative Diseases

Anti-Aging

Promote cardiovascular cerebrovascular health

Remedy for allergies

Reduce fatigue & boost vitality
instructions
INSTRUCTIONS FOR USE

IMPORTANT!!!

Add Water to the Line

Press and hold the switch button for 3 seconds, the cup automatically works for 5 minutes, and after 5 minutes, the cup emits "Dl' Sound, then automatically shut down.

!!! Open lid slowly, because have pressure in the bottle!

Blinking Red Light Means – need charge

Charging – RED light is ON

Full Charge – GREEN Light is ON

Up to 20 times cycles after full charge

Benefits of NEW SPE PEM technology:

It used latest – FIRST in the WORLD,

2 Chamber 7 Layer System SPE–Platinum Catalyzed DuPont 117 Membrane, which is far better than ordinary water generators or ionizers.

Only 5 minutes to reach the high concentration of 2000PPB

For 10 minutes can reach up to 4000PPB.

No more ozone chlorine and other harmful substances.

Needn't maintenance, can use for 2-3 years.

LEVEL UP WAY – USA SELLER

SPARE PARTS – have All SPARE PARTS for your peace of mind.
{ END ORIGINAL DESCRIPTION ON AMAZON }

– HYDROGENWATERLABS REVIEW-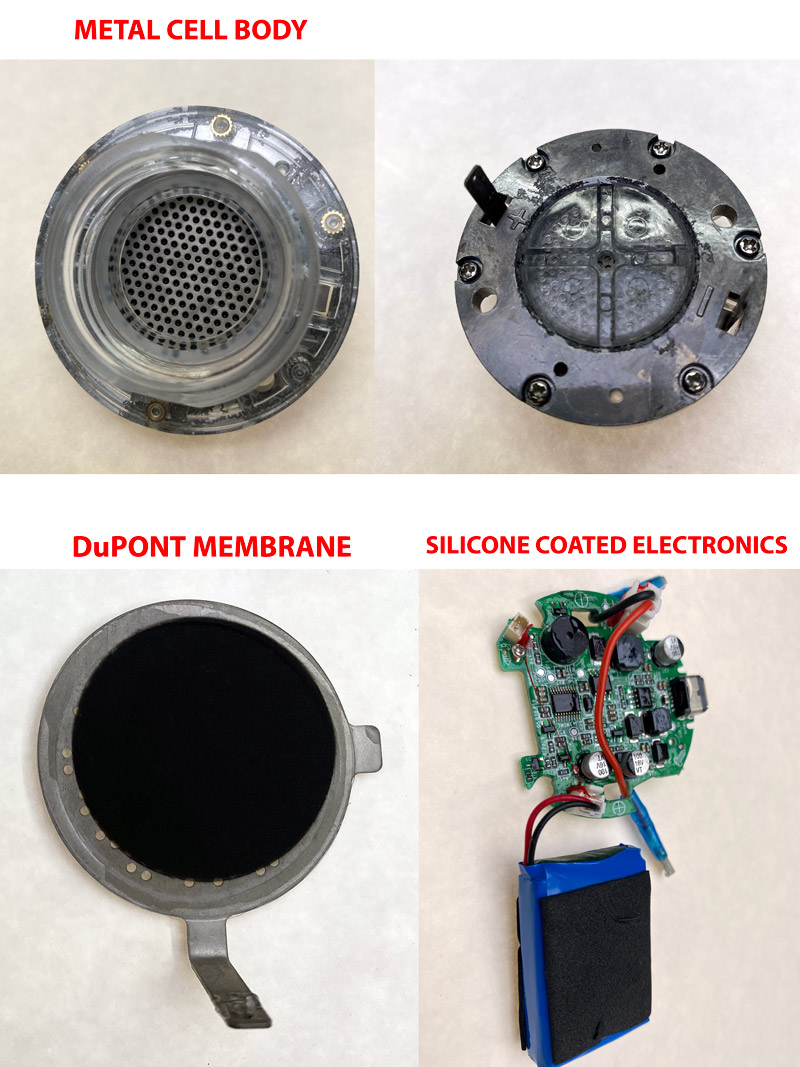 Well build but Fake Claims
False claims + small battery + small water container
PROS
Solid build on the inside
Silicone coated electronics to protect from moisture
Silicone plug to protect the membrane
CONS
a bit overpriced
The Power button is not wet proof
Small battery capacity
Small water container
Outside Plastic looks cheap
Plastic container - won't hold H2 for long
Very basic instructions
Many misspellings
Doesn't come with accessories
Doesn't come with a charger
Fake Claims
Fake Reviews
Specification:
Level Up Way – Premium Hydrogen Water Bottle Generator – SPE PEM DuPont US
Hydrogen Inhalers Specifications
| | |
| --- | --- |
| Seller country | USA 🇺🇸 |
| Package dimensions (Amazon) | ‎9.72" x 3.98" x 3.35" |
| Packaged unit weight (Amazon) lbs | 1.26 |
| Battery capacity | 750 mAh |
| Container volume | 250ml |
| Container material | Tritan Plastic |
| Native English customer support | NO |
| Self-cleaning | No |
| Waranty | 1 year |
Hydrogen Water Bottle - Specifications
| | |
| --- | --- |
| PEM | DuPont USA |
| Chamber | Dual |
| Bubble size | Small |
| Max PPM | 2.8 PPM |
| Electrodes | Platinum coated Titanium |
| Ergonomic design | No |
| Cycles per charge | 6-8 Cycles |
| Cycle time | 3-5 Minutes |
| Produces Chrlorine | NO |
| Membrane life | up to 3 years |
| Comprehensive instructions | NO |