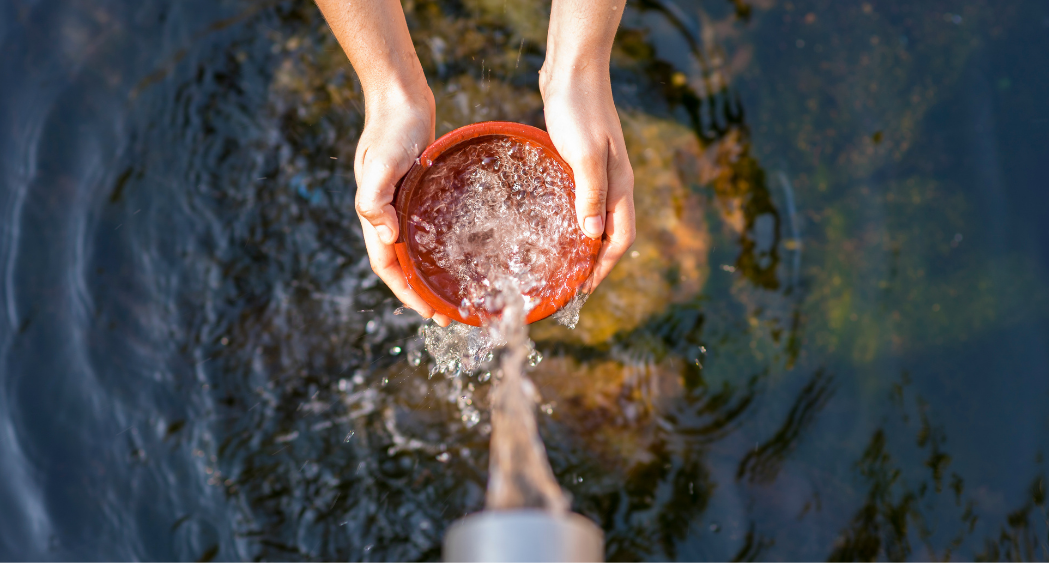 Which hydrogen water bottle is best?
One of the most frequently asked questions!
If you've come to this page, you're likely aware of the many benefits of Molecular Hydrogen: enhanced hydration, anti-inflammatory, anti-allergic, and anti-tumor properties, among others.
In this article, I'll focus solely on the technical aspects of selecting a hydrogen water generator.
Given that hydrogen tablets are magnesium-based and may interact with medications and have associated negative effects, I've decided to exclusively consider on-demand hydrogen water generators.
Here are the features I find most important when buying a hydrogen water bottle.
I'm sure you'll find them relevant too.
I want a hydrogen water bottle that is well-built, high-performing, and long-lasting to ensure the best return on my investment.

The device must be safe, based on the materials used and the mechanics of the electrolysis process.

It should be easy to operate, clean, and maintain.

I'm looking for clear, extensive instructions, ideally from an American company for quick response and shipping times if I need support.

Finally, I will consider the design and packaging.
Let's begin.
BUILD, PERFORMANCE & LONGEVITY
Most devices are made in China, but the ordering company controls the quality.
The main external materials are glass or plastic for the bottle, and stainless steel or plastic for the body.
Internally, we find platinum-plated titanium electrodes, proton exchange membranes (PEM), plastics, and silicone gaskets.
I'm most interested in what the water I'll be drinking comes in contact with: the container, electrodes, and membrane.
GLASS VS TRITAN PLASTIC CONTAINER
There are two main types of hydrogen water bottles: those delivering below 1.6ppm and those above. Higher concentrations require increased internal pressure, necessitating thick borosilicate glass or plastic containers. I prefer glass to avoid plastics, despite its fragility.
CONTAINER CAPACITY
A common question is how much hydrogen water to drink daily. This influences the needed container size. Hydrogen water offers better cellular hydration, meaning less water is needed for effective hydrogen delivery. Thus, smaller containers allow higher concentration in less time. Opt for the smallest container for more hydrogen, not more water.
With Ocemida's 5.0ppm, for example, I only need two cups daily for my antioxidant intake.
MEMBRANE
A Proton-Exchange Membrane (PEM) is vital for performance and longevity. They come from various sources: DuPont (USA), China, Korea, Japan. A Nafion circle from DuPont costs about $30 USD but is the safest and most studied.
COST
Considering all components, it's impossible to find a decent hydrogen water bottle under $100. Beware of cheaper models with dubious membranes.
CHAMBERS
PEM separates oxygen from hydrogen, avoiding Chlorine and Ozone formation. A double chamber, one for hydrogen and one for oxygen expulsion, is ideal. Some manufacturers cut costs by not expelling toxic byproducts, leading to bad taste, smell, and headaches.
ION BOTTLES BRAND EXAMPLE
ELECTRODES
Some devices under $50 use stainless steel electrodes, which can potentially leak heavy metals, posing health risks. Fortunately, these are rare. Reputable brands typically use platinum-plated electrodes for safety and quality.
EASY TO CLEAN
PEM needs to be soaked in water to function. Constant moisture can lead to mold growth, making ease of cleaning a crucial factor.
However, there's a trade-off: Many users report leaks due to large openings on both sides of the bottle for easy cleaning, requiring large gaskets. Improper gasket positioning or insufficient tightening can cause leaks and frustration.
My take? I clean my bottle daily and have learned to close it properly. I prefer a larger opening to prevent mold.
SELF-CLEANING BOTTLES !!!
Hydrogen water generators commonly use these cleaning methods:
UV or near-UV light
Ozone
The first method employs a blue light during operation to disinfect the membrane and electrodes. The ozone method, on the other hand, reverses the electrodes' polarity.
The key difference is that ozone cleaning requires pausing the device to change the water. The resulting ozone water can be used for mouth rinsing or surface disinfection.
Note: Daily rinsing and occasional cleaning with distilled vinegar are still necessary.
Advice: Keep your bottle closed to prevent mold spore contamination. If you drink directly from it, wash and rinse the inside with warm water after each use.
Example: The "impossible to clean" LevelUp vs the "be careful, it might leak" OCEMIDA.
LevelUpWay vs OCEMIDA
Notice the small openings and sharp corners inside the LevelUp Model bottle. These design features make it difficult to clean thoroughly. Even a dishwasher can't effectively reach these areas. By the way, avoid washing Tritan or plastic containers in the dishwasher, as the heat may deform the container or its threads!
ACCESSORIES
Some hydrogen water bottles come with accessories, while others don't even include a charger. Let's explore which accessories are essential and which are merely marketing gimmicks.
Inhalation adapter

Some bottles come with an inhalation adapter and a nasal cannula. Initially, this seems like a valuable accessory, but its usefulness diminishes upon closer examination.
The provided cannula is transparent, designed for oxygen, which has a much larger molecule size than hydrogen. In our tests, we observed that when the cannula's end is submerged in water, very few hydrogen bubbles reach the end. This indicates that most of the hydrogen escapes through the tube's walls. A meaningful hydrogen inhalation impact requires a gas flow that isn't achievable with electrolytic cells producing less than 3.0ppm.
However, inhalation from a portable hydrogen water bottle is still feasible, provided it's a high-performance device. Look for a bottle equipped with a white silicone cannula for better efficiency."
BOTTLE ADAPTERS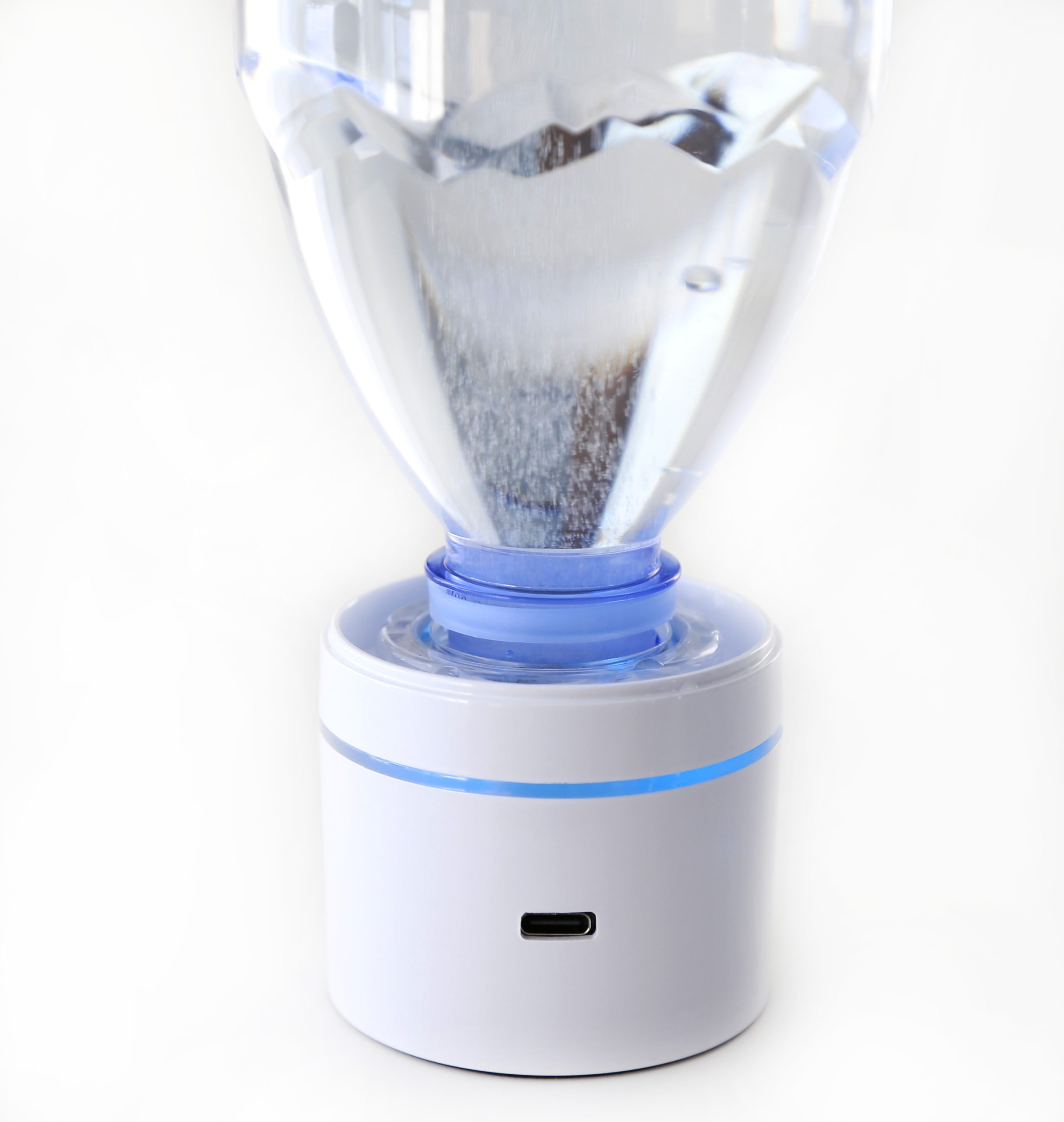 Some brands offer an adapter which allows the use of a 330ml bottled water.
This is a nice addition in case you have no way to get filtered water at work or while travelling. Since i'm avoiding plastic bottles, I would still buy water in a glass bottle and then pour it in my glass hydrogen water bottle to hydrogenate.

Protective Sleeve
If you go to the gym or take your bottle with you to work or while travelling, it's always a good idea to have a neoprene carrier. It provides protection from dust and damage and keeps your water cool for longer.
Compressed beauty masks
Hydrogen water can be applied externally and has the same anti-oxidant and hydration properties on your skin. It can reduce some fine wrinkles and protect from the damaging effect of the sun.
LET'S SEE 3 OF OUR MOST COMPARED HYDROGEN WATER BOTTLES SIDE-BY-SIDE
| | | | |
| --- | --- | --- | --- |
|   | | | |
| BRAND | ionbottles | H2 MAXX | OCEMIDA |
| CONTAINER SIZE | 14 OZ | 14 OZ | 12 OZ |
| MAX PPM | 1.2 | 1.6 | 2.8 |
| EASY TO CLEAN | YES | YES | YES |
| ACCESSORIES | NO | INHALER, BOTTLE ADAPTER | CARRIER, CHARGER, BOTTLE ADAPTER, BEAUTY MASKS |
| SELF-CLEANING | NO | OZONE | NEAR UV |
| DUPONT MEMBRANE | NO | YES | YES |
| VALUE FOR MONEY | 2/5 | 4/5 | 5/5 |