OCEMIDA – Professional Hydrogen Water Generator with DuPont USA – 5.0 PPM (Tritan)
Quality build, premium packaging, plenty of accessories and excellent users manual and customer support.
Hydrogen test showed 5.3 PPM in 10 minutes
{ ORIGINAL DESCRIPTION ON AMAZON }
False claims (if present) are highlighted in red by Hydrogen Water Labs

Subjective claims (if present) are highlighted in orange by Hydrogen Water Labs
💧 NANO-BUBBLES FOR MORE HYDROGEN: Smaller bubbles means better hydrogen dissolution, and the OCEMIDA water bottle delivers one of the highest concentration of molecular hydrogen on the market: 3.0 PPM in 240 ml of water in 5 minutes and you can reach up to a 5 PPM by running it twice

💧 DUPONT USA PROTON EXCHANGE MEMBRANE: Platinum plated electrodes and dual chamber to expel Chlorine and Ozone; compatible with many spring water bottles

💧 LEAK-PROOF & SAFE: Confidently hydrate with our meticulously designed Hydrogen Water Bottle; Generate hydrogen minus chlorine or ozone via an astute exhaust vent; Delight in a vivid indicator and never miss completion with a handy alarm

💧 TONS OF HEALTH BENEFITS: Hydrogen water is a strong antioxidant such as NAC and can detox spike proteins; it's proven to reduce bad cholesterol, boost the metabolism, speed up muscle recovery and help collagen production; bring it to the gym and use it as a pre or post workout

💧 1 YEAR WARRANTY: EVERYTHING IS COVERED: Free replacement parts, service and USA extended product care
Product Description

POWER UP WITH HYDROGEN WATER
Power up your drinking water with the OCEMIDA Hydrogen Water Generator. This machine makes water that's full of hydrogen, a top-notch antioxidant. It can help improve your workout results, protect your body from harmful particles, and speed up your body's energy use.
FOR ALL AGES & LIFESTYLES
HIGH H2 CONCENTRATION

Get the highest hydrogen concentration quickly. For best results, fill in with the water to the top and run it twice to get a 5000 PPB.

We recommend drinking it immediately.

HIGH QUALITY MATERIALS ONLY

Platinum electrodes and the latest USA DuPont PEM/SPE tech!

We stand by our product because we know it's the most advanced device, proven to produce hydrogen-rich water without any byproducts.

EXPEL VENT

With OCEMIDA, you never have to worry about unwanted products like Chlorine and Ozone because we use a DuPont proton exchange membrane (PEM). Only pure hydrogen bubbles through the water.
Why OCEMIDA ?
FOR CATS

Cats intuitively know hydrogen water is good for their kidneys. They will drink it even if they are not thirsty.

FOR AQUARIUMS

Dissolved hydrogen is present in rivers and sea water but not in tap and distilled water. Adding hydrogen water to your aquarium keeps the water fresh and the fish healthier.

FOR DOGS

A dog's sensitive nose instantly knows if the water is good or not.

Give your dog some hydrogen water and see the reaction. You can't fake that!
BRING A PROFESSIONAL HYDROGEN WATER THERAPY AT HOME
1. SOAK IN HYDROGEN WATER

Rehydrate the compressed mask in hydrogen water.

For optimal result use 30ml (2 tablespoons) of hydrogen-rich water.

2. APPLY AND RELAX

Wait for 10-15 minutes for the hydrogen to penetrate your skin.

3. HYPER-HYDRATION

Enjoy a rejuvenated look and feel!
{ END OF ORIGINAL DESCRIPTION ON AMAZON }
OUR TEST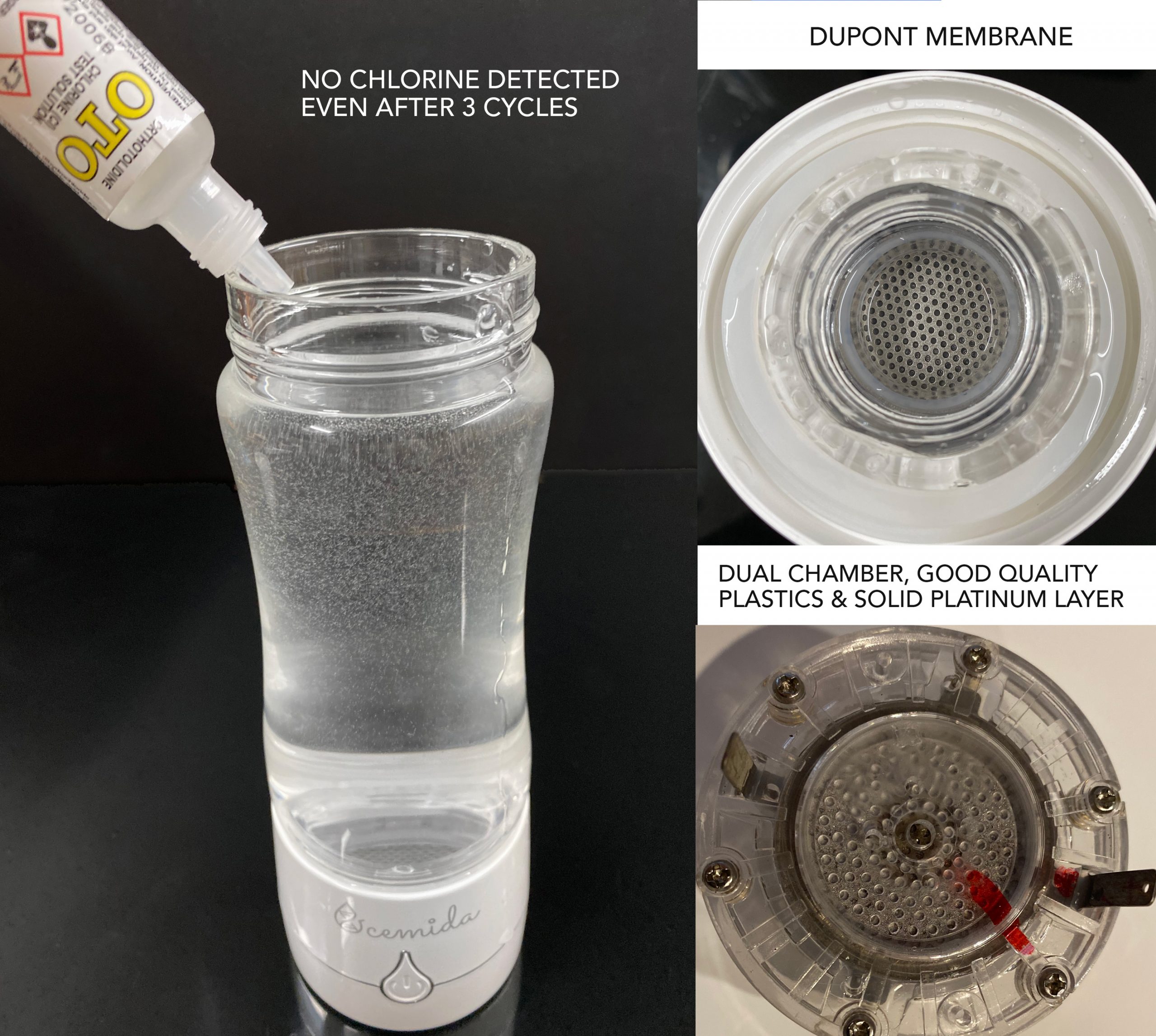 Business Name: Ocemida
Business Address: 11320 State Rt 9 Champlain NY 12919 US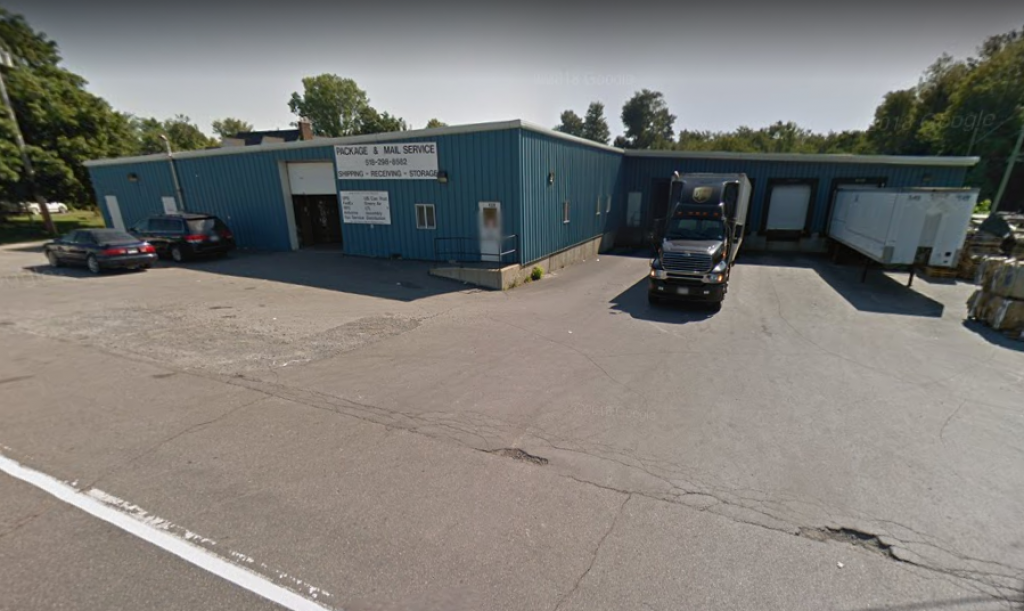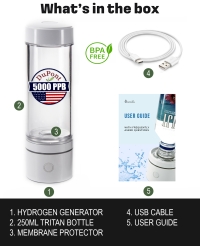 Excellent Quality and Price
Excellent value for the price Small and powerful Unisex design Excellent instructions and FAQ
Membrane and Electrodes Quality
10
PROS
High H2 concentrations
Includes many accessories.
Luxury packaging
Excellent customer support
CONS
the power button is not waterproof
single cycle of 5min
small bottle opening
Specification:
OCEMIDA – Professional Hydrogen Water Generator with DuPont USA – 5.0 PPM (Tritan)
Hydrogen Water Bottle - Specifications
| | |
| --- | --- |
| Seller country | USA 🇺🇸 |
| PEM | DuPont USA |
| Container material | Borosilicate Glass |
| Container volume | 360ml |
| Actual unit weight (without accessories) | 352g |
| Packaged unit weight (Amazon) lbs | 1.47 |
| Package dimensions (Amazon) | 11.06" x 4.49" x 3.15" |
| Chamber | Dual |
| Bubble size | Nano |
| Max PPM | 2.8 PPM |
| Electrodes | Platinum coated Titanium |
| Ergonomic design | YES |
| Cycles per charge | 12 Cycles |
| Battery capacity | 3.7V 1200 mAh |
| Cycle time | 5-10 Minutes |
| Produces Chrlorine | NO |
| Spare parts | YES |
| Works with regular bottle | YES |
| Tilt sensor | YES |
| Pressure release valve | YES |
| Membrane life | up to 3 years |
| Comprehensive instructions | YES |
| Native English customer support | YES |
| Waranty | 1 year |
Hydrogen Inhalers Specifications
| | |
| --- | --- |
| Accessories | Power Cable, Protective sleeve, Water bottle adapter |
| Self-cleaning | YES |
Dimensions
| | |
| --- | --- |
| Weight | 2 lbs |
| Dimensions | 3 × 3 × 8 in |