Editor choice
OCEMIDA – Professional Hydrogen Water Bottle with DuPont USA up to 2.1 PPM (Glass)
Voted the best hydrogen water bottle generator on the market.
ORIGINAL DESCRIPTION ON AMAZON

False claims (if present) are highlighted in red by Hydrogen Water Labs
✅ NANO-BUBBLES FOR BEST RESULTS: Smaller bubbles mean better hydrogen dissolution, and the OCEMIDA water ionizer delivers one of the highest concentration of molecular hydrogen available on the market; OCEMIDA produces 1.2 PPM in 330 ml of water in 5 minutes and you can reach up to a whopping 2.1 PPM by running it twice in a 330 ml mineral water bottle

✅ TONS OF HEALTH BENEFITS: Hydrogen water is a stronger antioxidant than resveratrol; it's proven to reduce bad cholesterol, boost the metabolism, speed up muscle recovery and help collagen production; bring it to the gym and use it as a pre workout

✅ CRACK-RESISTANT BOROSILICATE GLASS: thick single wall 12oz (360mL) glass bottle is stronger than regular glass; a USB charger type-C; ergonomic design makes it easy to hold even with wet, sweaty hands; operates plugged into any USB port or wall outlet or you can use the built-in rechargeable lithium battery when you travel

✅ USA DuPont PROTON EXCHANGE MEMBRANE: We only use the highest quality materials; a dual chamber with platinum plated titanium plates gives you up to 2.1 PPM and expels Chlorine and Ozone; compatible with Evian bottles

✅ HASSLE-FREE WARRANTY: The OCEMIDA hydrogen generators are backed by a full 365-day money-back guarantee; we have replacement parts ready to ship in case of an unfortunate event
Product Description
POWER UP WITH HYDROGEN WATER
Supercharge your water with the OCEMIDA Hydrogen Water Bottle. Hydrogen-rich water is the most advanced, most exciting way to boost the effects of your workouts, fight free radicals, and kick your metabolism into high gear.
FOR EVERYONE
STAY FIT

· Increase your glutathione levels to boost immunity and fight the effects of toxic metals.

· Get the true hydration your body craves

· Feel more alert and focused

BOOST YOUR PERFORMANCE

· Get a rush of natural energy

· Speed up recovery and reduce soreness after workouts.

· Increase mitochondrial ATP production

AGE GRACEFULLY

· Fight the aging effects of free radicals

· Reduce cholesterol levels

· Reduce chronic inflammation
Why OCEMIDA ?
HIGH H2 CONCENTRATION

Get the highest hydrogen concentration in the fastest time: No generator works as quickly or generates as many hydrogen bubbles as the OCEMIDA. For best results, run it twice to get a whopping 2100 PPB. We recommend drinking it immediately.

HIGH QUALITY

Don't fall for cheap imitations. Many companies claim they have PEM/SPE DuPont membrane but few really do; we stand by our product because we know it's the most advanced device, proven to produce hydrogen-rich water.

EXPEL VENT

OCEMIDA filters unwanted gas out like chlorine and ozone. Other hydrogen generators allow you to inhale the toxic gases. With the OCEMIDA, you never have to worry because we use a DuPont proton exchange membrane. Only pure hydrogen bubbles trough the water.
BRING A PROFESSIONAL HYDROGEN WATER THERAPY AT HOME
1. SOAK IN HYDROGEN WATER

Rehydrate the compressed mask in hydrogen water.

For optimal result use 30ml (2 tablespoons) of hydrogen-rich water.

2. APPLY AND RELAX

Wait for 10-15 minutes for the hydrogen to penetrate your skin.

3. ENJOY

Enjoy a rejuvenated look and feel!
KICKSTART YOUR DAY
Discover the difference hydrogen can make in your day. Even if you already had your coffee.
With the OCEMIDA H2 Generator, you'll be ready to take on everything life throws at you.
END OF ORIGINAL DESCRIPTION ON AMAZON
OUR TEST (AN IMAGE IS WORTH THOUSAND WORDS)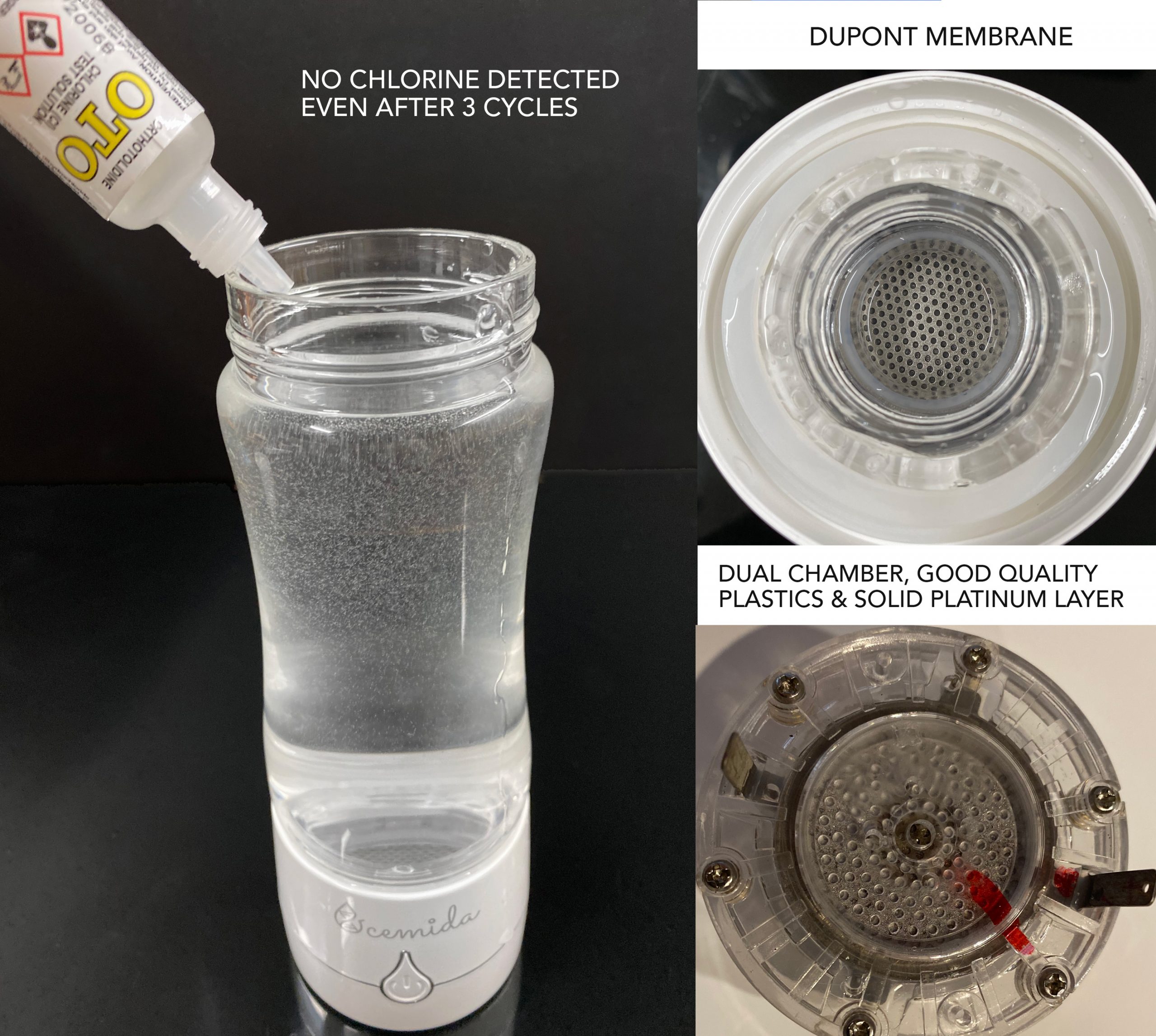 Business Name: Infiniva Inc.
Business Address: 11320 State Rt 9 Champlain NY 12919 US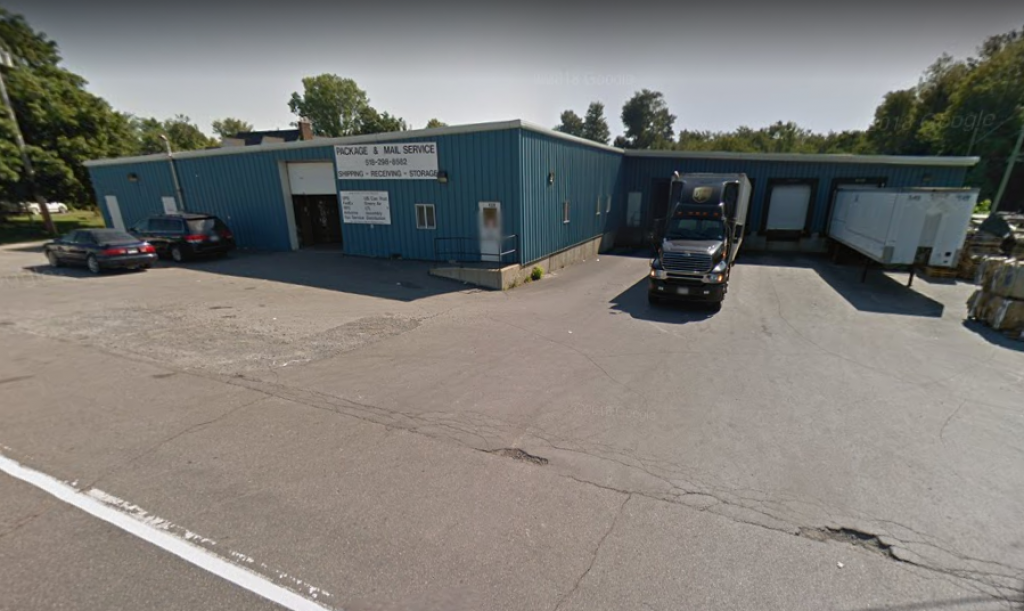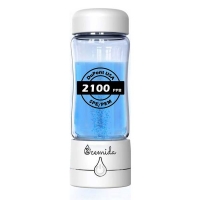 Excellent Quality and Price
Excellent value for your money. Small and powerful. Unisex design. Excellent instructions and FAQ
PROS
Lightest product
Holds more water than similar bottles
High H2 concentrations
Self-cleaning capabilities
Silk sheet masks included
Protective neoprene sleeve
Works with most water bottles
Excellent customer support
Specification:
OCEMIDA – Professional Hydrogen Water Bottle with DuPont USA up to 2.1 PPM (Glass)
Hydrogen Water Pouch - Specification
| | |
| --- | --- |
| Seller country | USA 🇺🇸 |
| Package dimensions (Amazon) | 11.06" x 4.49" x 3.15" |
| Packaged unit weight (Amazon) lbs | 1.47 |
| Works with regular bottle | YES |
Hydrogen Water Bottle - Specifications
| | |
| --- | --- |
| PEM | DuPont USA |
| Container material | Borosilicate Glass |
| Container volume | 360ml |
| Actual unit weight (without accessories) | 352g |
| Chamber | Dual |
| Bubble size | Nano |
| Max PPM | 2.1 PPM |
| Electrodes | Platinum coated Titanium |
| Ergonomic design | YES |
| Cycles per charge | 12 Cycles |
| Battery capacity | 3.7V 1200 mAh |
| Cycle time | 5-10 Minutes |
| Produces Chrlorine | NO |
| Spare parts | YES |
| Tilt sensor | YES |
| Pressure release valve | YES |
| Membrane life | up to 3 years |
| Comprehensive instructions | YES |
| Native English customer support | YES |
| Waranty | 1 year |
Specification
Accessories

Protective sleeve

Bottle adapter